Behind a classy wooden door, Ruby's welcomes with open arms. This cocktail bar is set in the most beautiful canal house in Copenhagen, across from the Parliament's  grounds. The area where Ruby's preside today was back in the 17 century known for dive bars where fishermen and farmers spend a little of their hard earned money on a dram. Now, it's the place to mingle with aristocrats, cocktail aficionados and town folk, who are intrigued by the cocktail culture and its sophisticated ingredients.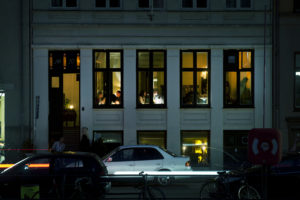 Walking up the stone steps to the wooden front door, there is yet to be a hint of what is behind. Once inside, this elegant living room come bar arises to every expectation that
could have entered your wishful thinking. The classy interior takes pride in Danish minimalism and is there to function – sitting down is required. And by all means, it is the best advice.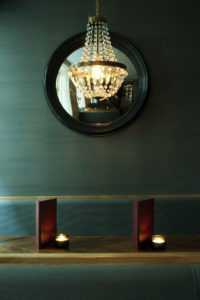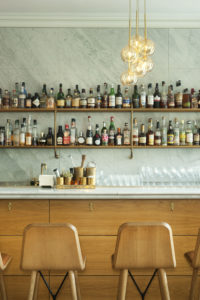 The drinks are en pointe and come in the most exquisite crystal glasses, elegantly mixed behind the brass and marble counter top – the drinks menu is delicately chosen, adding a list of seasonal favourites, yet classics can always be shaken or stirred on request.
Ruby's comfy chairs and birch bar stools by the bay window to catch folk walking by, whilst circular plush sofa's form great conversation starters with the neighbouring guests at the large round tables. And for extra comfort the decadent armchairs give plenty of opportunity to take that laid back approach when sipping your Ruby's cocktail.
Loves
The bay windows which function as cocktail tables for two
Finds
Classy glasses enriching the elegance of each drink
Images: Ruby's Cocktail Bar