For obvious reasons, the name of the Malmö based restaurant, Bastard, wasn't one that caught our attention in the right way. Yet, our sensors were alarmed and we had to try for ourselves. Located in the central district of Malmö's old town, just a stones throw away from Lilla Torg, a cobble stone square bordered by historic buildings – one features the Arts and Design center, the door opened at six and we decided to embark. The dark, almost old-school-class-room-like space with it's flora and fauna posters on one side and artwork on the other made sure the bar had us by surprise. Without fail, the bar/ cooking station in the midst of the open space had our full attention. The sober wooden paneling throughout added an aesthetic warmth to the place, as well as the stiff drinks, were it in a different way.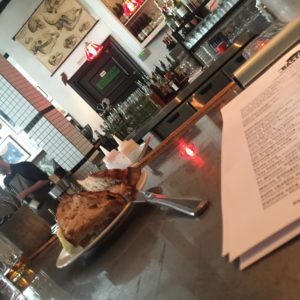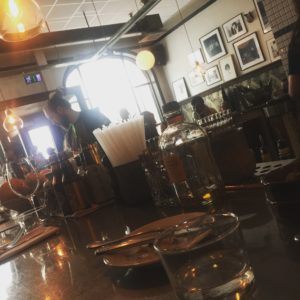 The interior was simple, but without doubt thought-through and functional in all its capabilities as buzzing cocktail bar and the seemingly popular restaurant. The bar functioned as part of the restaurant, where an open kitchen became part of the evenings entertainment and the staff was as attentive serving foods and matching drinks. Make sure you book well in advance, walking in is not an option for this Michelin star diner, having said that; cocktails are shaken and stirred at any given time during opening hours  for walk ins.
While we'd like to say, it's all in a name, we rather not as this rogue sure is worth another visit – preferably anytime soon.
Loves
Industrial detailing mixed with rural roots
Finds
Bastard embroidered tea towels used as serviettes