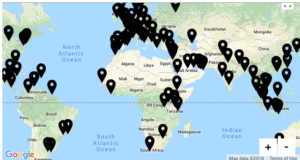 Als één van de Linda. Wereldwijven schreef ik mee over het leven in het buitenland op de nieuwsblog. Via Linda.Nieuws voegde ik als correspondent in Dubai mijn lokale nieuws toe aan het wereldnieuws. Hieronder een greep uit mijn nieuws:
Lokale bevolking minder stress op werk dan thuis
Kroonprins Dubai op de fiets in Amsterdam
Asjememou, een leeuw in de achterbak!
Ook verjaardagstradities internationaliseren
Scholieren en gevangenen vrij in Dubai
Ontmoeting kindermeisje na twintig jaar
Wie wordt Emirates Woman of the Year?