In the midst of the rolling hills of Bordeaux wine country, the medieval castle dooms up as a posh design object amidst modern-day statues and artistic impressions. It is here, at Caudalie, where couples come to romance and food aficionados indulge in home-grown ingredients, and where I followed the path of the therapists, being guided by their wellness powers.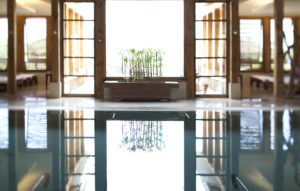 Based in a contemporary barn and overlooking the grounds, this calming fifteen hundred square metre wellness embraces a design coolness in the midst of country chic.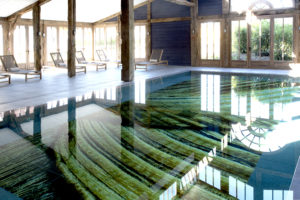 The hotel's 15 metre indoor pool is a unique experiment housed in the imposing greenhouse built from 18th century timbers. The bottom of the covered swimming pool is used as the photographic canvas of artist and sculptor Mathilde de l'Ecotais, who painted a gold tinted Japanese puffer fish, which changes tones by the incoming sunlight.
Caudalie is set up as if you have made a true escape to the country; little cottages and fishermen cabins are plotted around the vineyard terrain, with the eye catcher being the dovecot, which can be booked as your 'own little house on the prairie' for your stay.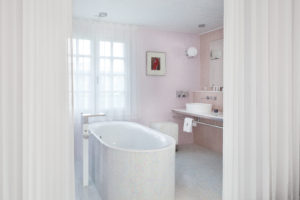 I stayed at the romantic Ile aux Oiseaux, designed by Delphine Manivet – a wedding dress designer from Paris- who dusted the serene white interior with marshmallow pink tones, complimented by fine brass details and antique charms embraced by a rustic wooden frame on stilts. To add to the epitome of romance – a pearl mosaic stand alone bath hidden behind sheer curtains and mirrored panes.
Loves:
Delphine Manivet coffee table book and the sound system
Finds:
Caudalie selection of his and her products
Save
Save
Save
Save